Description
Mini Circuits 8 Port BNC Splitter
Mini Circuits ZFSC-8-1-75 8 Port BNC Splitter is most commonly used by IF modems or modulators operating in the 70 MHz or 140 MHz frequency range.
A typical application for the Mini Circuits ZFSC-8-1-75 Eight Port Splitter is to connect a bank of modems to to an up converter, the transmit signal from each modem is combined into a single output.
Features
• low insertion loss, 0.8 dB typ.
• high isolation, 30 dB typ.
• excellent amplitude unbalance, 0.2 dB typ.
• rugged shielded case
Applications
• HF/VHF
• radio communication
• instrumentation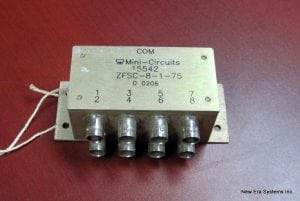 All of the connectors are BNC.