Description
Mini-Circuits ZSC-2375 2 port splitter normally operates in the 70 MHz to 140 MHz range. It takes the output from two devices such as modems and combines the signal into a single output stream. We have a large stock of coaxial connectors for all kinds of satellite equipment. Contact us to help you find what you need for your vsat project!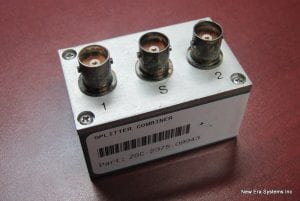 Features
• low insertion loss, 0.15 dB typ.
• high isolation, 35 dB typ.
• excellent amplitude unbalance, 0.1 dB typ.
• excellent phase unbalance, 0.2 deg. typ.
• rugged shielded case
Applications
• VHF
• radio communications
• instrumentation
Maximum Ratings
• Operating Temperature -55°C to 100°C
• Storage Temperature -55°C to 100°C
• Power Input (as a splitter) 1W max.
• Internal Dissipation 0.125W max.
The three connectors are BNC Female. Typically this type of splitter is 75 ohm.